You are here
Northwestern California Newspapers - The Eel River Valley Region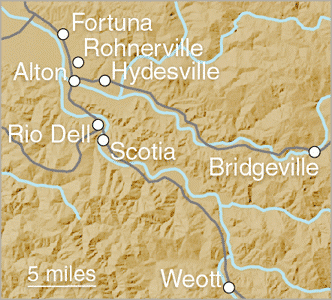 A brief newspaper-focused history
Prior to the founding of the Humboldt Beacon in Loleta and Fortuna, in 1902, there were two intertangled sets of newspapers. The Eel River Valley Advance/ Fortuna Advance group of papers began in 1888 in Springville, which soon became known as Fortuna. The Rohnerville Herald/ Home Journal/ Loleta Weekly Record group of papers began in 1881, consolidating in 1897. Alton's Our Paper (1892-93?) was probably part of the latter family and the Eel River (Valley) Echo preceded these papers, being published from 1878 or 1879-1880 in Rohnerville.
The consolidated Loleta Weekly Record did not survive the establishment of the Humboldt Beacon in 1902, but the Fortuna Advance lasted until it was bought by the Humboldt Beacon in 1938, continuing as the Humboldt Beacon and Fortuna Advance until 1995. In 1948 one more newspaper, the Fortuna Tribune, began publication but it did not last, ceasing probably in 1949.
Another Echo emerged in 1970 in Rio Dell, the Free Echo and/or the Eel River Echo, and continued until June 1974.
The Eel River/Fortuna Advance story is told by Florence Miller, a descendant of the founding Stinson family. M.A. Parry provides great detail for the Loleta Weekly Record/Rohnerville Herald part of the picture. The Humboldt Beacon continues as one of the longest living newspapers in Humboldt County, having bought out the Union and the Redwood Record which were both terminated in 1995.
Eel River Valley / Fortuna Advance

Rohnerville Herald / Home Journal / Loleta Weekly Record

The Northwest California Newspapers Website is managed by Special Collections located in the Cal Poly Humboldt Library