You are here
Aiding Eureka Chinatown Research
Anne Howard, Intern
Clarke Museum - Cal Poly Humboldt Special Collections - Digital Media
In the late 1800s, on the block of land bounded by E, F, 4th, and 5th streets in Eureka, over 300 Chinese people once lived in a bustling Chinatown. But the Chinese Exclusion Act of 1882, the first U.S. law to ban immigration by race, gave way to a brutal wave of ethnic cleansing across the Pacific Northwest.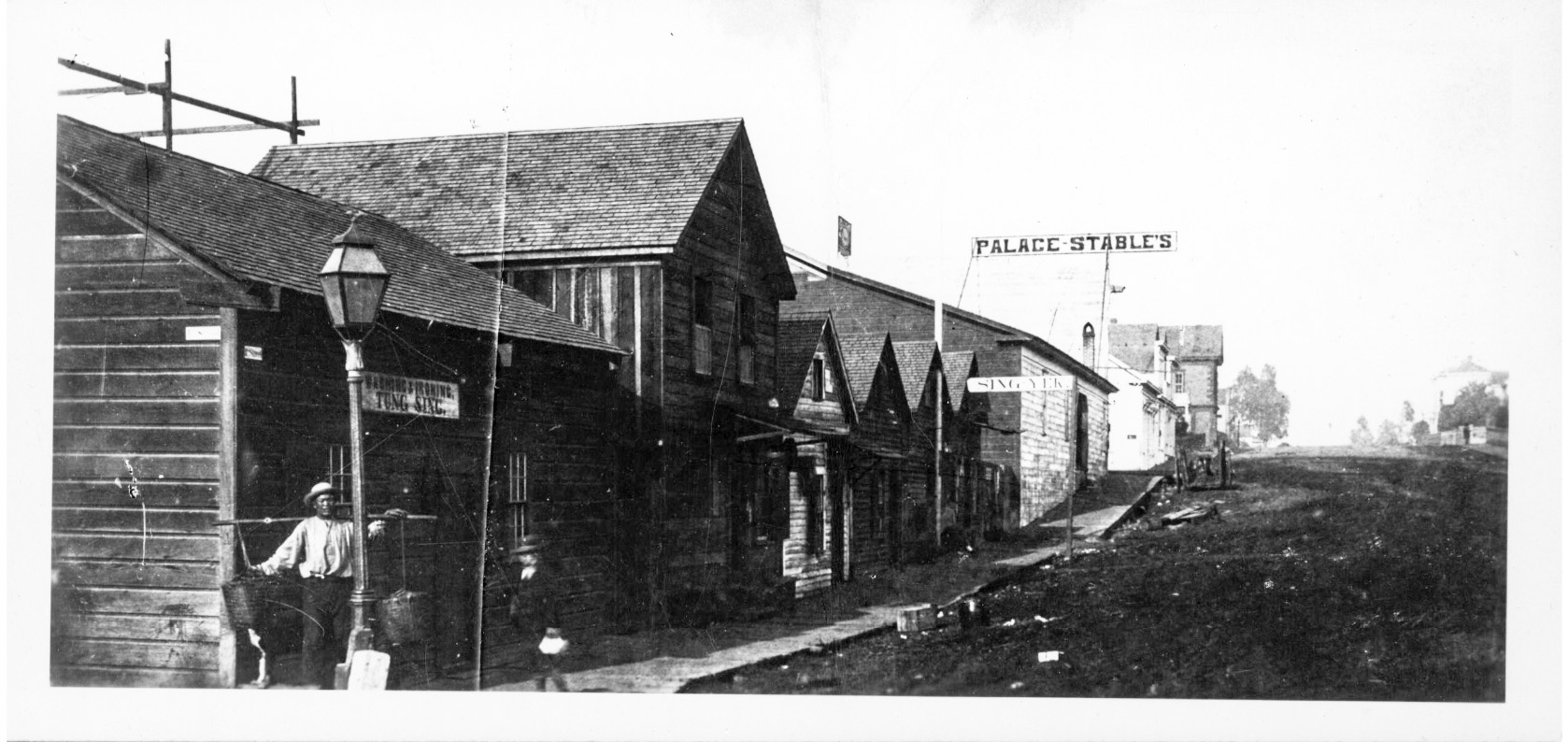 [Man balancing two buckets on the wooden sidewalk of an unpaved street]. Photograph. 1999.07.3177. Humboldt County Collection Photos. Cal Poly Humboldt Library, Arcata, CA. Cal Poly Humboldt Digital Archives
On February 6, 1885, a white Eureka city councilman was accidentally killed by a stray bullet. The blame fell on two Chinese men, and an angry mob of hundreds of people gathered near Chinatown. To control the escalating situation, a committee of 15 prominent local leaders determined the fate of the Chinese residents. Soon after, Eureka leaders ordered all Chinese people to leave within 24 hours and were loaded onto steamships bound for San Francisco.

The Chinese people were integral to building the West (including Humboldt County) until the national Chinese Exclusion Act of 1882 and the 1885 Eureka expulsion. Subsequent expulsions occurred in surrounding towns and areas in following years. A hostile culture in Eureka prevented Chinese Americans from returning to Humboldt County until the mid-1950s.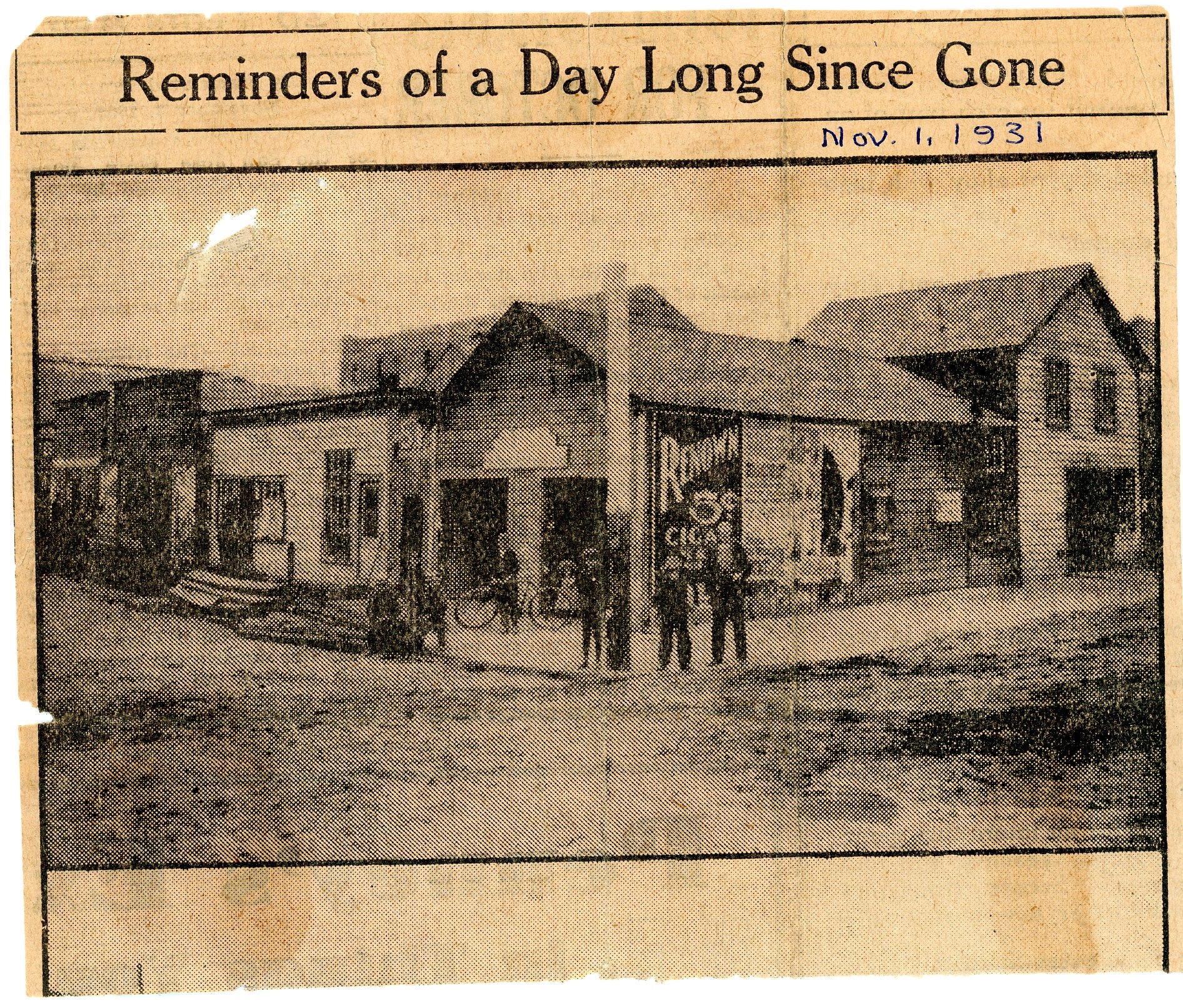 Chinese in Humboldt, Humboldt County Pamphlet Collection. Cal Poly Humboldt Library, Arcata, CA.
It was not until after the Second World War, the repeal of the Chinese Exclusion Act in 1943, and the repeal of the California Alien Land Law in 1956, that Chinese Americans began to return to Humboldt County. Since then, the Asian American community of Humboldt County has continued to grow and thrive, demonstrating resilience and capacity for reconciliation in the face of hatred and discrimination, and an ability to work with other communities in Humboldt County to strive for peace and prosperity for all of the county's residents.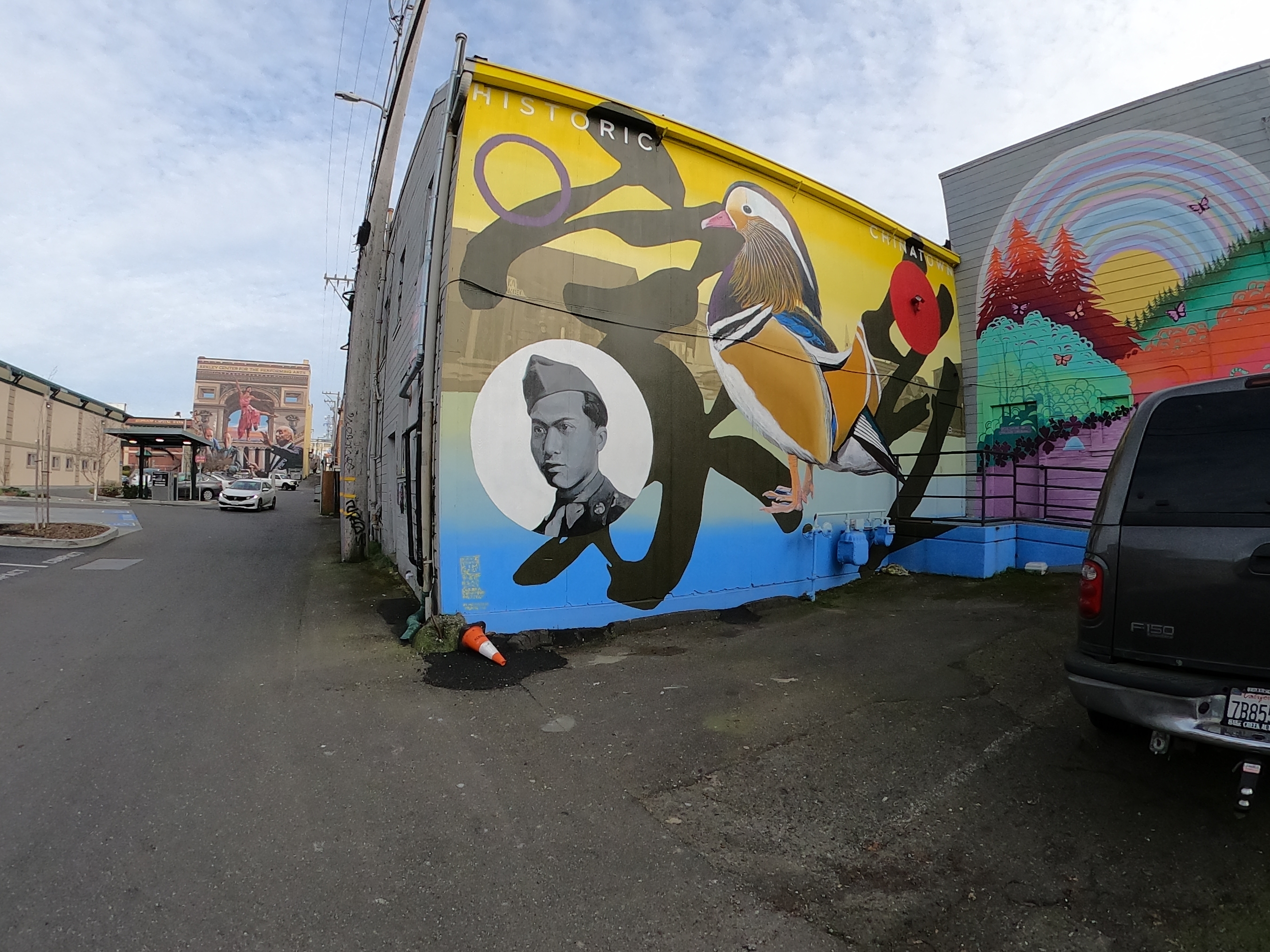 "Fowl," by Dave Young Kim -Eureka mural commissioned by the Eureka Chinatown Project in 2021 to commemorate Chinatown

This research guide was compiled and organized by intern Anne Howard (MA in English) in Spring 2022 with the guidance and support of Cal Poly Humboldt Special Collections, the Digital Media Lab, Humboldt Asians and Pacific Islanders in Solidarity (HAPI), the Eureka Chinatown Project and the Clarke Historical Museum. By digitizing items related to Eureka's Historic Chinatown and the Chinese residents of Humboldt County, Anne hopes to assist researchers in their work and to further the goals of HAPI to educate the community. By acknowledging this legacy of racism, we hope to move towards a more inclusive future that builds bridges between the diverse communities of Humboldt County.
To learn more about HAPI and the Eureka Chinatown Project, please visit: eurekachinatownproject.com  
http://www.clarkemuseum.org/immigration-expulsion-homecoming.html
and enjoy a virtual tour of Eureka's Historic Chinatown here: [link forthcoming]