You are here
Special Collections is Open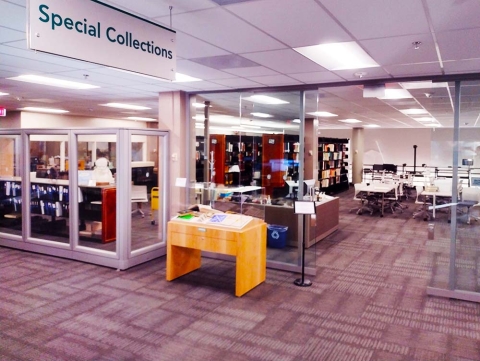 After a long hiatus during the University Library closure, Cal Poly Humboldt Special Collections is open again for walk-in hours. 
Starting February 1st, students, Faculty and staff can visit the Special Collections Reading Room on the 3rd floor and peruse our Humboldt County Collection on Tuesdays and Wednesdays between the hours of 1pm and 4pm. Research appointments can be made outside of these hours by students, faculty, staff and community researchers by contacting archives@humboldt.edu.
What's In There?
Special Collections support the University's curriculum with emphasis on the natural resources, Native peoples, and primary industries of Northwestern California, including the history of Cal Poly Humboldt. Books, theses, maps, audio and visual materials, collections, historical photographs, local publications and periodicals, an exceptional assortment of pamphlet files with subjects pertaining to our local area, and other research materials are housed in our space. 
How Do I Use the Reading Room?
Your first step to using Special Collections is to start with a topic, and then search for your keywords on our website searchbar.  If it's photographs you are interested in, check what we already have digitized in our Digital Archive. If it's books you are after, search our library catolog and filter for Special Collections and Archives, 3rd floor. Then come on in and find your materials.
A good place to head next is our collections list,  to see if any of these collections contain your subject. Next check their individual finding aid link, and alert a librarian or staff member in Special Collections to see the contents of the collection. 
Can I Come In Without a Subject?
Please do. You can come in and browse our shelves and exhibits. Ask the staff member at the resarch desk to guide you to materials you may find interesting. Just come in with clean hands, and leave your food and drinks outside the glass doors.
Happy researching!
January  27, 2022