You are here
Two New Assistants in Special Collections
Cal Poly Humboldt Special Collections welcomes two new Student Assistants.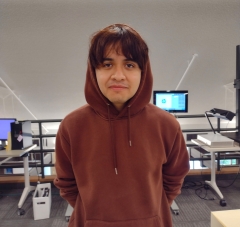 Azrael Tapia is a Geography senior who has started his role as the Special Collections Map Specialist. He will be digitizing the maps in our collection, including the  Herrick Land Survey and Map Collection, consisting of 251 land survey drawings and maps of Humboldt and Del Norte County (California) covering the 1890 - 1930 time period, the Thornburg Map Collection, Lumber industry, Hammond/Georgia Pacific/Louisiana Pacific, and the Humboldt County (HCC) Map Collection whose geographic scope is Northwestern California. These collections are searchable in the Cal Poly Humboldt Digital Archive, and many will be available there as well.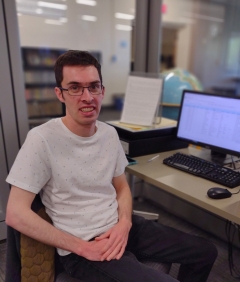 Scott Peifer is a Sociology Junior who has been brought on to transcribe the Tuttle Collection into a searchable database. This is a collection of hundreds of hand written entries by Don Tuttle, a local historian who hand wrote local newspaper summaries from the very late 1800s through the 2000s. This incredibly important project will allow researchers to use search terms to find microfilm and newspaper articles on their research topic, instead of having to search for known dates. It will be a significant boon to local research, and Scott will make it possible.
We are so happy to have both Scott and Azrael.
April 4, 2022